Canines in California: Moving with Fido
By Medina James, DogEtiquette.info
California is calling and you answered! You are packing up and making the move to a brand new home with Fido by your side, but how can you make sure your furry companion stays happy and stress-free with all these changes happening? This infographic will provide helpful tips for making the move with your pooch, getting you one step closer to dog-friendly fun in California. Once you settle in, kick things off with a bang by rewarding your dog with a tasty treat from Muttropolis and a romp on the Rose Canyon Bicycle Path. If your pooch happens to be a young pup, small, or timid, the separated areas at Capehart Dog Park in San Diego will surely meet his needs. After all that outdoor fun, take a breather and enjoy some good food at Mendocino Farms (they are known for bringing out water for furry visitors). Or, enjoy the best unique aspect the California coast offers for dogs and their owners – dog beaches!
Here are a few dog beaches to check out: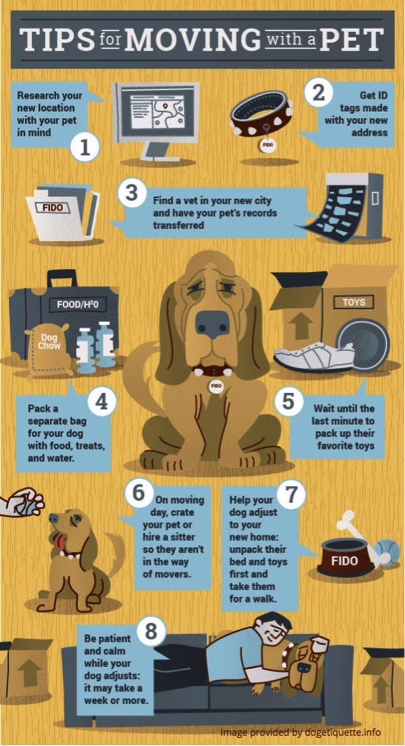 For more information:
1.Visit bringfido.com to find pet friendly establishments
2.Visit petco.com to order new ID tags
3.Visit yelp.com to read vet reviews
4.Visit humanesociety.org for help with packing a travel bag for your dog
5. Visit hireahelper.com to hire pet friendly movers
6.Visit vcahospitals.com for tips on managing your pet's stress
7.Visit aspca.com for more tips on moving with a pet
8.Visit cesarsway.com to get tips on being calm and patient with your dog
Fido won't mind the move with these helpful tips, and he certainly won't have anything to bark about when you show him why California is a great place to call home. Your California dreaming will be a reality before you know it.
Other dog-friendly activities in San Diego (for even more options, visit bringfido.com).